Jeff Bizinkauskas '10 on Oct 18 2009
What is WesWars?
We're hosting the first Annual WesWars, beginning on October 30, from 4 – 6 p.m. on Andrus Field. WesWars games will continue through the week of November 2nd and will culminate in a short award ceremony at half time of the Homecoming Football Game. WesWars is supported by University Relations, the Alumni Association and the Office of Student Affairs and is loosely modeled after class competitions of old and "cannon scraps" which were popular in the mid 1800's. With the help of University archivist, Suzy Taraba, we have done some research on these old Wesleyan traditions and WesWars is a fresh take on these popular inter-class games.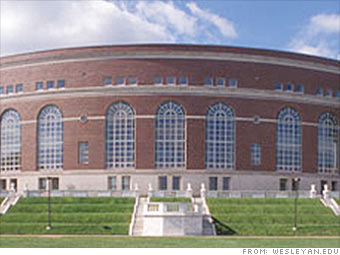 Games
Tug of War Tournament – 4:15 Think you're tough enough to represent your class in the tournament of the year? Contact your team captain or sign up on October 30th to join the team.
Frisbee Long Toss – 4:30 Think you have a good arm? Show us. 5 rounds. Farthest toss wins.
Fastest 10-Person Pyramid 4:45 Make a team. Assemble the quickest. Score points. Register day of or in advance with your class captains.
WesMoan – 5:00 – BE THERE Sounds dirty? Maybe. Gets you dirty? Not at all. Don't want to throw, tug, capture, or assemble. Come to the Hill and yell for your class. The loudest class wins.
Capture the Flag – 5:15 The grade school classic is back again in tournament form. Show up on Andrus Field and be prepared for battle.
Never played before?
The Goal: to capture the other teams flag.
The Play: Two teams line up opposite each other on the 50 yards line. Players run onto the other team's side attempting to grab the flag and carry it back to their side. The first team to capture the flag wins.
Going to Jail: If you are tagged on the opposite team's side you go to jail. Jail is freed by tagging a prisoner's hand.
Academic and Trivia Questions Faculty and Staff have contributed a series of academic and Wesleyan trivia questions. Not athletically inclined? Answer a questions or two, score points for your class.
Have another game in mind? LET US KNOW!
Host a Game
WSA groups, program houses, fraternities, sports teams… anyone and everyone is invited to host their own game anytime between October 30th 6 p.m. and November 6, 5 p.m.
Host a dodgeball competition, host a community service clean up, host a hall decorating competition…anything you can think of.
ALL GAMES MUST BE REGISTERED WITH TEAM CAPTAINS. Submit the rules, times and dates of your activity and then submit the winners and we will add the points to the scoreboard.
Scavenger Hunt
Friday, November 6th at 9 P.M. in Usdan courtyard Recent advances in technology make this scavenger hunt like nothing you've seen before. Using interactive mobile uploads and your cellphone, teams of six (within your class) will compete in the last opportunity to earn BIG points for your class. Bring your game face and your keen sense of direction, there are sure to be surprises with this one.
SIGN UP WITH YOUR TEAM CAPTAIN. No limit on the number of participating teams per class.
Participate!
You don't have to be an athlete or a brainiac to join the team. All it takes is a little spirit. Wear your team color, don some red and black war paint, get ready to cheer, and score points.
Class: Seniors
Team Color:
black
Captains: Jordan Brown (jbrown05 at wes) and Elise Kaye (ekaye at wes)
Class: Juniors
Team Color:
red
Captains: Samantha Pop (spop at wes)
Class: Sophomores
Team Color:
gray
Captains: AhDream Smith (afsmith at wes) and Aubrey Hamilton (ahamilton at wes)
Class: Freshmen
Team Color:
white
Captains: Zach Malter (zmalter at wes) and Krysten Thomas (ksthomas at wes)
INTERESTED IN BEING A CLASS CAPTAIN?
Just contact one of us!
Win!
Medals: Gold Medals will be awarded to the class that scores the most points on game day, October 30th.
Rights to the historical Class Key. President Roth will present the Class Key to the winning Class Captains during half time of the Homecoming/Family Weekend Football Game.
Dinner hosted by Dean Mike Whaley and your (winning class) Dean.
Bragging Rights: A framed photo of the winning class and the Class Key will hang in Usdan for the remainder of the school year.
Host a Booth
Calling all groups & clubs!
Want to publicize? Spread awareness? Fundraise?
Register your student group, program house, club, etc. with AhDream Smith '12 of the Cardinal Council by Tuesday October 27 and use your table for whatever you want! (afsmith@wesleyan.edu)
Cardinal Council table
Come to the Cardinal Council Table and score points for your class. Answer trivia, show your spirit with facepaint, register to compete in a field event, take a stab at Michael Roth's Question, pick up academic questions, or learn how to get involved with our mission.
Moon Bounce
Expend and reinvigorate your energy while re-living one of your favorite childhood pastimes– its the Moon Biggity-Bounce… all participants have access, so get active!